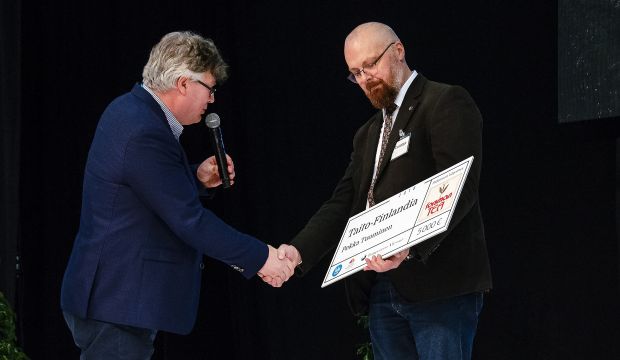 Puukko-Pekka nominated as winner of Taito-Finlandia 2018 – Pentik impressed by design
Press release 16.11.2018
The Finnish Craft & Design Fair, opened today already for the 23rd time in Tampere, gathers tens of thousands of admirers of Finnish know-how, craft and communality to the Tampere Exhibition and Sports Centre. The opening ceremony included awards for the Taito-Finlandia winner, master knifesmith Pekka Tuominen, selected by Anu Pentik; Artesan of the Year, Jonne Lindholm; the newcomer product of Finnish Craft & Design; as well as works by children and youths who participated in the joint competition of the 4H club, Novita and the fair organiser. The theme speech was given by the Minister of Education, Sanni Grahn-Laasonen. The themes of this year's fair are children and young people, traditions and circular economy. Last November, the event saw a record-breaking number of 49,331 visitors. The fair will continue till Sunday evening.
Modeller, designer and creative director of Pentik Oy, Anu Pentik, opened this year's Finnish Craft & Design Fair and announced the winner of Taito-Finlandia 2018, master knifesmith Pekka Tuominen, from Keitele. For the second year running, the €5,000 prize sum was awarded by Taito-Finlandia sponsor Forsman Tee.
– The Finnish knife remains a relevant arts and crafts item, fit for gift and practical uses, in addition to being a ready-made export item. The design, creativity and skill of the maker are emphasised in the knife's handle and sheath. The gorgeous Tuominen knives are works of art with lasting value, says Anu Pentik about the winner.
Those making knives as a profession are numbered low in Finland, and their visibility outside the industry is scarce.
– Though this award is presented to me personally, it's an award for the development and increase in quality of knifemaking in our country during the last few years. I suppose I've found my own niche in the market, as my current list of orders extends to around two years from now, for example. Most of my clients are collectors, of whom around 80% are foreigners, Pekka Tuominen explains.
Artisan of the Year: 'Possible additional benefits of reuse and recycling fascinate me'
During the opening ceremony, the Artisan of the Year Award was presented to Jonne Lindholm (artisan degree in building restoration from Ikaalinen College of Crafts and Design), from Turku. The jury applauded Lindholm for his passionate, committed and unyielding attitude and deemed that his restoration projects represent thorough and traditional Finnish work in an exemplary manner.
– I'd be interested to study and experiment earnestly with possible additional benefits of reuse and recycling. Even now we're constantly taking advantage of recycled parts in building restoration, but I feel that it has the potential to develop into its very own branch in the future, states Jonne Lindholm.

Pictures and press releases: www.tampereenmessut.fi (For the media / Material bank)