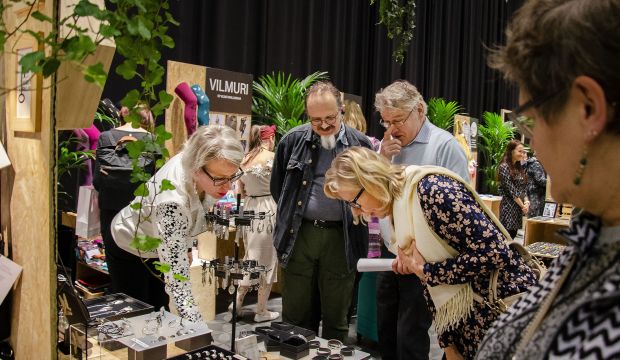 Manual skills increase well-being – 50996 visitors at Finnish Craft & Design exhibition
Press release 21.11.2018
The popularity of the exhibition being held in Tampere for the 23rd time is rising at an amazing rate. 50996 visitors came to enjoy a wide variety of showcases presented by 734 Finnish exhibitors, and to mingle in a joyful atmosphere. The opening ceremony consisted of prizes being handed to certain talented individuals, and the speeches of Sanni Grahn-Laasonen, Minister of Education and Anu Pentik, the artistic director of Pentik OY. The big recycling sales exhibition Th!nk Design Shop was present for the first time. Next year's event being held on 15.–17.11.2019 will be themed around the well-being produced by handicrafts.

Finns love handicrafts. A recent study by Taito Group Finland shows that one third of Finns craft, build or fix things at least a few times a month. Knowing this, it's no miracle that the biggest craft and design exhibition in Europe keeps getting visitors steadily year after year. In the grayest time of the year many people want to spend their weekend surrounded by lights and color with likeminded people, and begin the wait for the holiday season in a positive atmosphere.
– Knitting and crocheting are most popular amongst craftswomen. After these come sewing, home improvement and DIY related crafts. The biggest motive behind a handicraft hobby is the relaxation and well-being brought by it, says Taito Pirkanmaa ry Head of Operations, Virve Pajunen.
Next year the focus on well-being will be a primary theme of the exhibition, along with circulation economy.
– Feeling good by crafting is one of our next year's themes. Working with your hands is relaxing, feeling the materials on your skin helps to clear and focus your mind and crafting related hobbies have been proven to increase well-being. Investing in an artisanal product can also make you feel good, because a domestic product is often both ethical and ecological. This year's circulation economy theme will be continued the next year, says Jasmin Saadetdin-Rikkinen from Tampereen Messut Oy.
Taito-Finlandia-winner orders fully booked for the next two years – Artisan of the Year from Turku
The winner of the Taito-Finlandia 2018 award is master knifesmith Pekka Tuominen from Keitele. The winner of the award was chosen this year by the founder, designer and artistic director of Pentik Oy Anu Pentik. The 5,000eur prize was donated by Forsman Tee, acting as a sponsor for Taito-Finlandia for the second year.
– Most of my customers are collectors, out of whom around 80% are from outside of Finland. The interesting thing about a knife as an object is its versatility, to me it's a tool and a piece of art at the same time, says Pekka Tuominen.
The Artisan of the Year award goes to an Ikaalinen arts and crafts institute alumnus, artisan of building restoration Jonne Lindholm from Turku. Some of the strengths of this artisan who likes combining new and old, according to the panel, are his passion, commitment and intrangience.
Finnish Craft & Design 2018 New Product of the Year Award goes to gTIE by Nahkaamo Deafmetal hearing aid jewelry line, designed by jewelry designer Jenni Ahtiainen. During the opening ceremony prizes were handed out to the winners of an arts and crafts contest for children and adolescents held by 4H, Novita and Finnish Craft & Design, and to the Tastiest rural business (Maistuvin maaseutuyritys).Pictures and press releases: www.tampereenmessut.fi (For the media / Material bank)