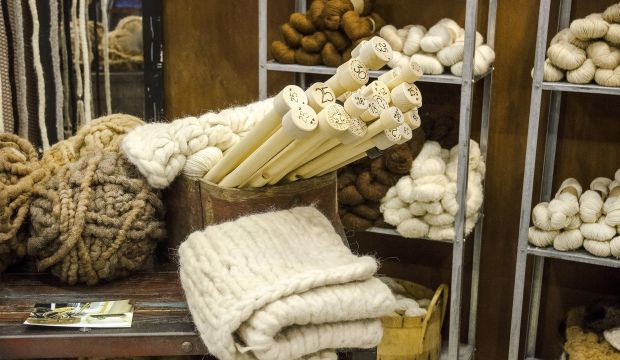 Finnish Craft & Design: Jukka Kurttila from Finlayson to select Taito-Finlandia winner
Press release 01.11.2017
The Finnish Craft & Design Fair, the largest handicrafts and applied arts fair in Europe, will be held for the 22nd time on 17–19 November at the Tampere Exhibition and Sports Centre. The event delves deeper into themes inspired by the centenary of Finland's independence, and skilled individuals will be rewarded on the opening day. The Dolls' House Fair and XXXV Railway Modelling event will be held in the same venue at the same time.
This year the programme of the Finnish Craft & Design Fair will highlight, in particular, domestic production, small-scale entrepreneurship, doing things together and the centenary of Finland's independence. On the opening day on Friday 17 November, the recipients of the Artisan of the Year, New Product of the Year and Taito-Finlandia awards will be announced.
The Taito-Finlandia 2017 finalists are Restaurointi Mikael Holma from Hämeenlinna, Koistinen Kantele from Rääkkylä, Soja Murto, a maker of national costumes from Imatra, and Ritva Puotila, a textile artist from Espoo. Jukka Kurttila, CEO of Finlayson Oy, will select the winner.
"It is truly an honour to select this year's winner. Without excellent skills, not even the wildest dreams can be made real. This is why it is wonderful that, once a year, we pay respect to those who not only talk and act smart, but also do things," Kurttila says.
The Artisan of the Year competition features 3D modelling, a puppet theatre for hire, and design textiles
The finalists of the Artisan of the Year 2017 competition are Asta Immonen, a student of arts and crafts tutoring from Vantaa, Antti Korpi, a student of 3D printing and modelling from Tampere, and Heli Mälkonen, a student of design textiles from Salo.

Hall D will feature the Dolls' House Fair throughout the weekend and the XXXV Railway Modelling Event on Saturday and Sunday. Both of these events will bring enthusiasts to the venue to buy supplies and ready-made parts, find ideas and, of course, meet like-minded people.
Read more: Dolls' House Fair held at the same time – a shared passion brings people together
Read more: At the same time: XXXV Railway Modelling Event
Media events
Opening of the Finnish Craft & Design Fair on Friday 17 November at 11:30 am, Programme Stage (Hall E)
• Welcome to the fair, hostess Maryam Razavi
• Opening words, Hannu Vähätalo, managing director, Tampere Trade Fairs
• Taito-Finlandia 2017 award selected by Jukka Kurttila, CEO of Finlayson Ltd.
• New Product of the Year 2017, Virve Pajunen, executive director, Taito Pirkanmaa
• Artisan of the Year 2017, Hanna Ketonen, counsellor of education, Finnish National Board of Education
Agricultural Enterprise of the Year award ceremony on Friday 17 November at 12 noon, Programme Stage (Hall E)
Event info (opening hours, ticket prices, directions): www.kadentaidot.fi/en (Fair Info)
Get accreditation beforehand by 15th of November