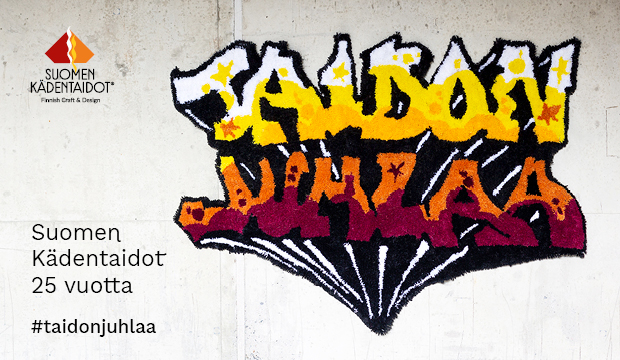 Captivating, woolly versions of graffiti for the Fair's anniversary celebrations
News 07.02.2020
In the hands of textile artist Niina Mantsinen, rough, masculine and slightly anarchistic street art turns into soft, tempting and fascinating traditional craft art. Mantsinen graces the world with unique graffiti wall rugs: the North Karelian artist combines traditional craft techniques with rough street culture to her liking.
The Finnish Craft & Design Fair, which celebrates its 25th anniversary this year, both respects tradition and renews constantly. The visuals that fit the theme of the anniversary celebrations have been designed with Niina Mantsinen. The colours of the graffiti wall rug, designed and implemented by the textile artist and a graffiti painter together, are based on the colours of the Fair's logo. The rug also visualises the Fair's theme – a celebration of skill.
– I hope the visuals of the Fair and the graffiti rug inspire visitors to try new things with an open mind: combining different things or techniques and learning more about anything. I also encourage everyone to deviate from the instructions and norms!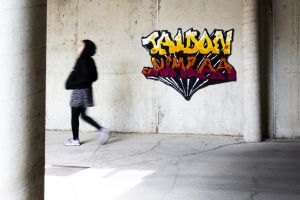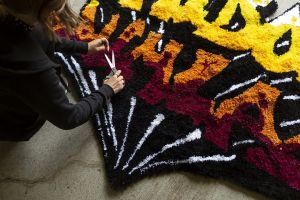 A rug does not allow for the impulsiveness of graffiti
Mantsinen finds that combining urban street culture with traditional wall rugs is a natural way of making art.
– I got into street art and graffiti in 2004 through the 'Let me love' phenomenon. This combination merges two subjects that are important to me. Both wall rugs and street art have long, wonderful traditions.
The softness of the rugs comes from wool yarn, which Mantsinen sometimes mixes with other materials, such as linen, hemp or cotton yarn. Graffiti art involves speed and impulsivity, but rug graffiti requires deep concentration. Graffiti turn into rugs with tufting, a technique in which wool yarn is threaded, stitch by stitch, with a pen-like tufting tool or electric pneumatic 'tufting gun' into a base cloth stretched on a large frame.
Mantsinen actively follows the graffiti culture and bases her rugs on graffiti from artists whose style pleases her.
–I always ask the artist for permission before I start creating a rug, so each rug is made as a collaboration.
The theme of this year's Craft & Design fair focuses on skill and skilfulness ­– not forgetting the craftspeople behind the skills. Project Manager Jasmin Saadetdin-Rikkinen states that the Fair, or even the Finnish craft industry as a whole, would not exist without skilled entrepreneurs.
–Equally important are visitors and craft enthusiasts who want to buy unique, carefully prepared products and raw materials.
Mantsinen, who graduated from Savonlinna's arts-specialised upper secondary school, obtained a Textile Designer degree from Karelia University of Applied Sciences and has been making her living as an artist since 2012, appreciates the theme of the Fair's anniversary.
–I believe creativity and skill are the most important themes, and it's great to be a part of the visual design of the Fair and the celebration of its 25th anniversary.
You can admire Mantsinen's graffiti wall rugs in her exhibition at the Finnish Craft & Design Fair 13–15 November 2020.